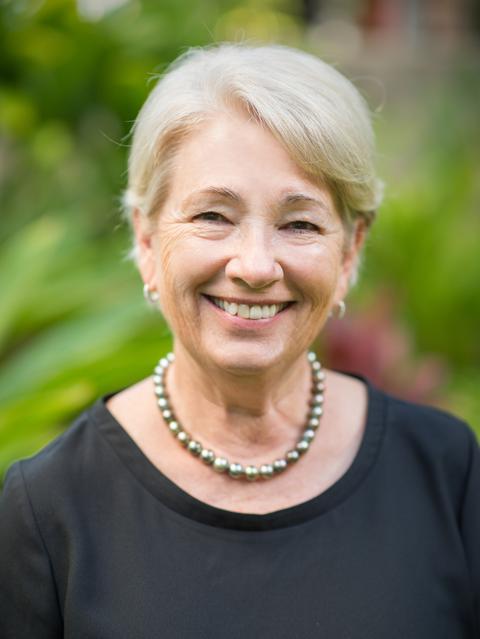 Kathryn "Kathy" Nelson recently started her new role as senior vice president of philanthropy for Hawaii Community Foundation.
Prior to joining HCF, Nelson held leadership positions as vice president for advancement at Punahou School, vice president of development at University of Hawaii Foundation, and vice president and managing director at Grenzebach Glier and Associates, an international philanthropic management consulting firm.
"I have a deep background in educational fundraising," she said.
Part of her role now is to work with a team across the state, as well as with members of the community, to ensure philanthropic resources are available for the foundation's CHANGE framework. CHANGE stands for Community & Economy, Health & Wellness, Arts & Culture, Natural Environment, Government & Civic and Education — to create partnerships to better align efforts for greater community impact in Hawaii.
Pacific Business News caught up with Nelson to see how she is adjusting into her new role and the vision she has for HCF.
You mentioned you were looking at retiring, but then went to work for HCF. What changed?
I was attracted to HCF because of its leadership, reputation and the role it plays in the state. With HCF's CHANGE framework, the leadership really has an exciting vision for Hawaii and I am excited to be apart of this. I'm looking forward to working with prospective donors to build change in our community. That's really where the magic happens — it's that opportunity to make a difference in the lives of others. There's no greater feeling than having an impact. I'm at HCF because Hawaii's given my family and I so much and I just want to be able to give back.
Is there a financial goal you're looking to reach?
We are working on setting specific goals and objectives as we move to operationalize the work we're doing here. Our top priority, besides just the money aspect, is setting the scene for the team's impact around the CHANGE framework. We are always looking to make sure our success is quantifiable. I want HCF and its partners to achieve unimaginable success through the CHANGE framework.
What advice would you give to someone looking to get into a similar role?
I would say, "In times of transition, keep an open mindset." Every organization has a unique personality. Since I started here everyone has been so welcoming and committed to enhancing HCF's mission. It's truly been awe-inspiring. Just keeping an open mind about the new culture and way things operate — I think that's an important approach.
---
Source: https://www.bizjournals.com/pacific/news/2019/08/28/three-questions-with-hawaii-community-foundations.html